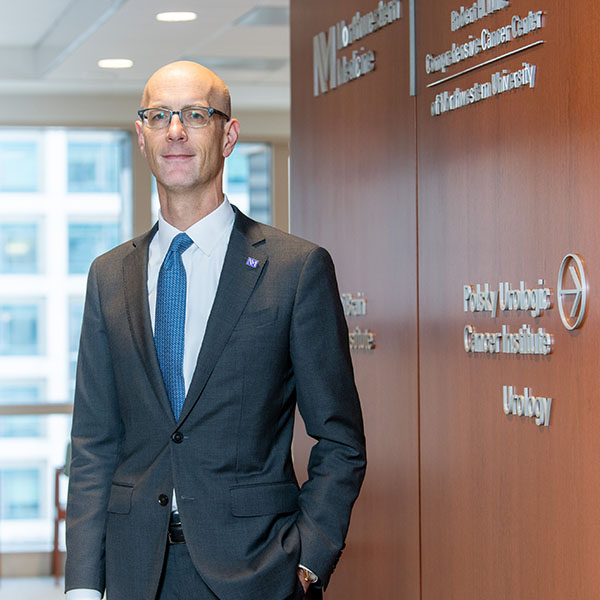 Edward Schaeffer, MD, PhD
Director, Polsky Urologic Cancer Institute
Edmund Andrews Professor and Chair
Department of Urology
Northwestern University
Feinberg School of Medicine
A Message from Dr. Edward Schaeffer
In January 2019, the Polsky Urologic Cancer Institute of the Robert H. Lurie Comprehensive Cancer Center of Northwestern University at Northwestern Memorial Hospital was established to create a multidisciplinary access point for the diagnosis and treatment of all genitourinary cancers. Experts from all areas of genitourinary cancer care, including urology, medical oncology, radiology and genetics, are working together in a single setting to provide integrated, state-of-the-art care for urologic oncology patients.
Our patient-centric approach, shared vision and strong collaboration between physician-scientists in the Department of Urology and the Lurie Cancer Center inspires leading-edge research that will transform our field with breakthroughs in treatment and new discoveries.
The new Institute was made possible by a commitment of $10 million from Michael Polsky, founder & CEO of Invenergy, and Tanya Polsky, philanthropist and former finance executive. The foresight, generosity and thoughtful philanthropy of the Polsky family affords us the opportunity to set a new standard in urologic cancer care.
This first year has been one of incredible growth and transformation. Through stories about promising translational research findings and innovative programs, this report illustrates how the work we do every day provides patients with complete and compassionate urologic cancer care while our researchers continue to bring new insights and advances in urologic cancer research, education and discovery. We have several exciting initiatives planned in the years to come as we continue to transform urologic cancer care in Chicago and worldwide.